Memory Café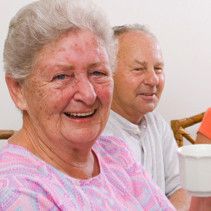 The Netwell Memory Café opened in September 2014, run by staff and volunteers managed and associated with the NetwellCASALA. The overriding aim of the Netwell Memory Café is to create a friendly and informal place with a welcoming and relaxed atmosphere where people with memory problems, their families, and friends can gather and share relevant information.
The Netwell Memory Café, a unique new venue for people with dementia and their families has proved very successful over the past year. The Netwell Memory Café, open since September 2014, is based at Ruby's Vintage-Style Tearooms in Williamson's Mall, Dundalk from 6-8pm on the third Wednesday of each month. This new initiative is designed to bring dementia openly into the community. "The Netwell Memory Café is based on the concept of the Alzheimer's Cafés, which generally open for about two hours a month, but is aimed at people and families living with dementia and service providers" says co-ordinator Ann Marron from the Netwell Centre. "At the moment, most of the Alzheimer's or dementia cafés around the country are held in health-related premises such as day care centres or HSE facilities. We wanted to link with an age-friendly business such as Ruby's Vintage-Style Tea Rooms and bring the subject into the community, further reducing the stigma around dementia." Ann has been working with Ruby's staff and manager, Noreen Treanor, over the past year and a half to provide dementia-awareness training for staff and provide a knowledgeable, comfortable experience for customers attending. "The café nights gives information to people with dementia and their families and lists all available and appropriate services. The café also identifies a named person for families to help them connect with the relevant services. We really want families to know that they can access information at an early stage through the Netwell Memory Café and that we can advise on the upcoming dementia care pathway for County Louth. "Our Memory Café is very popular", said Ann Marron "and is well attended each month by families, carers, PHNs, GPs, people living with dementia and a range of service providers".
Guest speakers to date have included Olive Joyce, ASI, local GPs, Dr Sarah O'Brien and Dr Grace Kenny and Dr Olwyn Lynch, Consultant Geriatrician for Louth, Catherine Mc Ginley, solicitor, Máire Brady, Snr.Social worker, Community Garda Sgt. Eugene Collins, Dr. Moloney, Consultant psychiatrist, Mary Gaughran and Paula Loughran, HSE home support manager. "We really appreciate the voluntary support from each speaker to date and have a good information programme for 2016. Each presentation is very informative and feedback is positive reflected in the number of new referrals month on month". The next get together in on Wednesday the 16th of September 2015, from 6-8pm with Olive joyce, ASI, speaking about the various types of grieving associated with dementia. Hope to see you there!
Further Information
Please contact Ann Marron on 0879369931 or ann.marron@netwellcentre.org